Awara Adventure Farm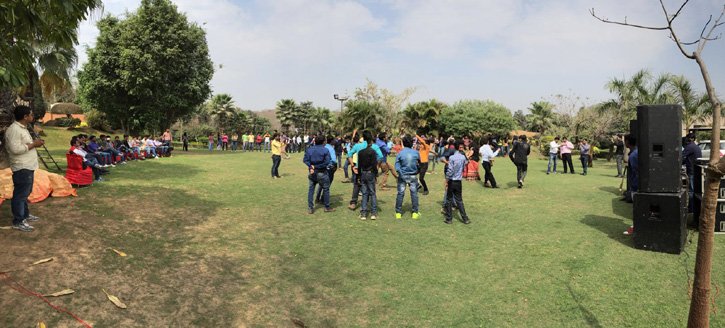 Awara Farm
With just a year of operation, Awara Adventure Farm has become a popular and preferred synonym for adventure weekend getaway resort in area adjacent to Delhi, Dehradun, Mussorie and Rishikesh. Travel enthusiasts, families and corporate employees who search for a wonderful adventure camping location and weekend getaways resort in search engines in areas of Gurgaon has almost opted for the name of Awara Adventure Farm for a lovely, charming and comfortable weekend stay.
With the air-conditioned cubicles and deskbound lifestyle, spending quality time with your near and dear ones has almost become a rare phenomenon. We, at our Awara Adventure Resort Gurgaon, give you the perfect opportunity to relax within the natural setting and spend amazing time with your office colleagues, dear buddies and families. We have got strong and positive reviews and feedback from our corporate as well as individual clients regarding their staying experience at our resort.
Awara Adventure Farm Resort Gurgaon promises to offer you hygienic, healthy and convenient services at our adventure resort which any other hotel of lodge will not be able to offer. You must come to relish our services and amenities like high-end sauna, gym and swimming pools and spend relaxing time over our delicious food and luscious drinks. At, we commit to offer you a lifetime adventure experience and help our guests to bond with each other and spend some candid moments. Overall, we will do everything to make your stay exciting and find confidence within yourselves which you have almost forgotten amidst the recent hectic work culture.
Our young, energetic and dynamic team of professionals, who have been part of our successful operation of a year, take good care of you at every step during your stay at our resort. Also, we promise to create a name for ourselves as a ground adventure provider and lovely resort by satisfying our individual and corporate clients. Also, we have our energetic and experienced adventure activities staffs that can let you engage in thrilling adventure activities once you are here.
So, come over with your families or team mates, take part in our professional training programs and team building workshops and have a gala time over amazing food and drinks. Have cherishing moments among lush peaceful environments and in spacious well furnished rooms thereby enjoying the vivid scenes of the Aravallis and enjoying the rain tricking over the greenery all around.