Mathura Group Tour Packages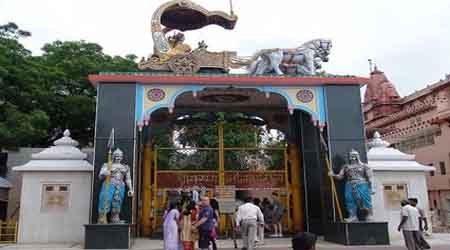 Mathura
Come to Mathura and you can feel exotic beauty around this place. Flocks of tourists hit this religious place from far and wide. With the significance of mythologies and legends running across the small city, Mathura has a range of hotels of differing price rates. You can get a decent accommodation within your budget. The tour operators also arrange various packages that let you explore every corner of this place.
Day When to visit
Winter may be considered as the best time to visit Mathura as the summer temperature remains extreme. However, the place becomes overpopulated during Holi, Janmasthami, Radhasthami and Guru Purnima. You can also visit the destination during this time to experience the rich culture and tradition of Mathura.
Places to visit:
Mathura gets the prime attention from the visitors. The beautiful city on the edge of river Yamuna allures uncountable number of people during festive season. In fact, the place itself is so enchanting that people come here to experience the calmness and old-world charm.
| | |
| --- | --- |
| Mathura city | Shri Krishna Janmabhumi |
| The Mathura city has remarkable historic as well as religious interests. | The most prominent temple in Mathura was built in 1814. This temple, located at the heart of the city, is considered as the birth-spot of Lord Krishna. |
| Dvarkadhish Temple | Vishram Ghat |
| In the same year this very temple was set up. The temple flaunts exceptional architectural beauty. | Vishram Ghat has its own historic significance as mentioned in religious Hindu tales. It is believed that Lord Krishna took rest here after demolishing Kangsha. |
| Vrindavan Dham | Nandgram |
| Just 15 Km from Mathura you can find another historic spot, known as Vrindhavan Dham. The place witnessed the pure love of Lord Krishna and Radha. | Nandgram, the house of Lord Krishna's foster father, is approximately 51 Km from Mathura. |
Mathura Group Tour Packages
Activities in Mathura
Shopping in Mathura
The Mathura city is very beautiful and glamorous. A short city trip along with shopping is one of the best activities out here. Milk-made sweets are very popular in Mathura and you should taste it once you visit this place.
The colourful Holi
Holi is celebrated throughout India, but the festival of colours carries a unique and unmatched essence in Mathura. It symbolises good over the evil power.
Janmasthami in Mathura
The birth ceremony of Lord Krishna is celebrated in a grand manner in Mathura, which is a must-see occasion in this place.
Radhashtami in Mathura
Similar to Lord Krishna's birth anniversary, Mathura also celebrates the birth anniversary of Radha.
Braj Yatra
The pilgrims set out a yatra (journey) for 50-days and spread the name of God.
How to reach
Mathura is very close to Delhi and can be reached by a mode of transport; airways, railways and roads.
Indian Railways provide regular train service to Mathura from other parts of India. The major Railway stops are Mathura Cantt (MRT) and Mathura Junction (MTJ). Local train service also exists.
The NH2 from Delhi-Howrah, NH3 from Mumbai, NH11 from Agra-Bikaner, NH93 from Moradabad crosses over Mathura. Uttar Pradesh tourism has also established bus link with various parts of the state to Mathura.