Jodhpur Group Tour Package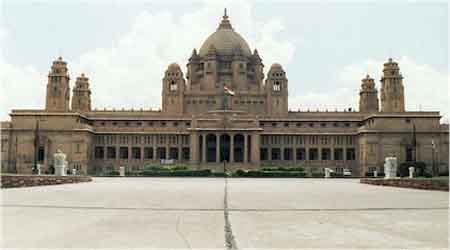 Jodhpur
Jodhpur attracts flock of tourists every year. The well-planned package offered by reliable and reputed tour operators let you experience its rich endowment of exotic locales in this destination. Jodhpur gives you a perfect reason to break free from the bustling city life and leave behind all your tensions and worries by staying in one of those relaxing hotels at affordable price rates.
When to visit
The peak time to visit Jodhpur is between October and March. On the flip side, summers are sweltering in Jodhpur.
Places to visit:
On the dry land of Rajasthan, Jodhpur is a place than can bring life to the enthusiastic tourists. The place is cordoned with forts and places with immense historic importance.
| | |
| --- | --- |
| Umaid Bhawan Palace | Mehrangarh Fort |
| This is one of the biggest palaces of Rajasthan built during the period of Maharaja Umaid in 1929. This palace of quaint charm, located just at 8 Km from Mehrangarh Fort, was constructed by foreign architectures. | The Mehrangarh Fort is a Fort that is worth visiting. This is considered as one of the biggest Forts of India, established 400 feet above the city life. |
| Jaswant Thada | Ghanta Ghar |
| This is a mesmerising architectural landmark of Jodhpur was founded by Maharaja Sardar Singh during his era in 1899 in the memory of his father. The palace is made up of white marbles. | The very popular Ghanta Ghar of Jodhpur is located just beside the Sardar market, which is a very popular shopping destination for the tourists. |
| Balsamand Lake | Kaylana Lake |
| Almost a kilometre long lake, Balsamand Lake, is another prime attraction for the tourists. The lake was constructed during the period of Balak Rao Parihar in 1159 AD. | Just at 8 Km in the outskirt of Jodhpur, there lies a picturesque water body. In the year 1872 Pratap Singh built this artificial 84 sq km lake, which is also known for the gathering of migratory birds. |
Jodhpur Group Tour Packages
Activities in Jodhpur
Splendor of Indian desert
A weeklong desert tour is one the major activities usually preferred by the tourists from all over the world.
The historic forts and palaces
The iconic city, Jodhpur, flaunts its royalty and grandeur owing of its age-old forts and palaces.
Bird watching
The Sardar Samand Lake, Balsamand Lake and Kaylana Lake are famous spots where you can experience flocks of colourful migratory birds especially during winter.
Jodhpur International kite festival
Jodhpur attracts thousands of tourists to see and take part in International Kite festival during second week of January.
How to reach
The second prevailing city of Rajasthan is bridged with all types of transportation system across India.
The Jodhpur Airport, having the infrastructure of International standard, connects the place with major cities of the country.
Indian Railways have constructed Jodhpur railway station which is considered as the HQ of North Western railways. There are also 8 sub-urban railway stations in or around Jodhpur within a radius of 16 Km. Luxurious train service like Palace on Wheels and Royal Rajasthan on Wheels serves extraordinary Rajasthan tour.
Jodhpur is connected with Delhi, Surat, Agra, Ahmadabad, Jaipur, Ajmer and many other places through NHs and State Highways.