Gurgaon Corporate Tour Packages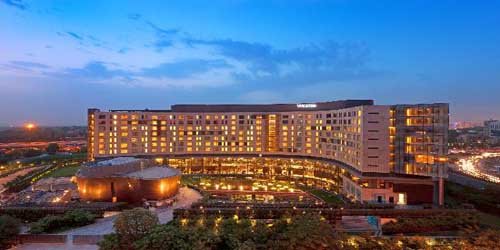 Gurgaon
Gurgaon, the IT hub in the Delhi NCR Region, is a fantastic destination in India. The place is full of elevated and sky-reaching buildings. Tourists can get affordable hotels and low-price accommodations all across the city. You can make the tour very special if you select package tours from various tour organizers.
Day When to visit
People visit Gurgaon throughout the year especially for business work, but the best time to visit this place is between July and November. The summer and winter in this NCR Region is extreme and better to avoid.
Places to visit:
Gurgaon, the beautiful city in the Delhi NCR Region, witness visitors all over the country majorly for business purposes. However, the city has plenty of eye-smacking tourist spots.
Stellar Children Museum
The play based museum has been designed especially for children. Adults will also love to visit the museum.
Appu Ghar Oyster Water Park
It is an amusement park and chilling spot during the sizzling summer days. This entertainment spot is highly appreciated by visitors coming during summer days.
Aravalli Bio-diversity Park
On the edge of Aravalli range, a natural bio-diverse region is there where visitors often go for walking, cycling and hill-climbing. The wetland and pond inside the 576 acres area also attracts migratory birds during winter.
Sultanpur National Park Bird Sanctuary
Within a range of 15 Km from Gurgaon, there is a mind-boggling national park. This is also known as birds' paradise and a charming place for bird-watchers.
Qutub Khan's tomb
During the end of 18th century, Qutub Khan's tomb was built. The tomb is 2 km from Old Thane, a place is Gurgaon.
Damdama Lake
One of the biggest lakes, Damdama Lake with size 12.14 sq Km, is a very special tourist spot in Gurgaon.
Activities in Gurgaon
A day in the city
The city has got sky-scrappers and beautiful shopping malls. You can roam around the city and discover the northern food, culture, monuments, facts and lifestyle.
Ice-skating
The 15,000 sq feet area is full of artificial ice especially for those who love to skate.
A walk in the Aravalli Bio-diversity Park
Don't miss the outstanding opportunity to see the natural beauty along with birds and butterflies well within the city.
How to reach
India's top most financial and industrial city, Gurgaon, located at NCR Region, is connected by air, road and railway services. More so, metro services play a prominent role as a transport media.
On the intersection of NH8 and Delhi, Indira Gandhi International Airport serves as the prime airbase for Gurgaon.
Gurgaon Railway station is the only railway station, which connects the place with Delhi, Haryana and other major cities of the country. New Delhi Railway station (32 Km) from Gurgaon is also an alternate train route to Gurgaon.
There are plenty of bus services from adjoining cities and states to this industrial town. You can also drive from Haryana, Jaipur, Jodhpur, Rohtak, Dehradun, Dharmashala, etc.
The metro service to Gurgaon from Delhi is also a wonderful communication mode.