Pachmarhi Group Tour Packages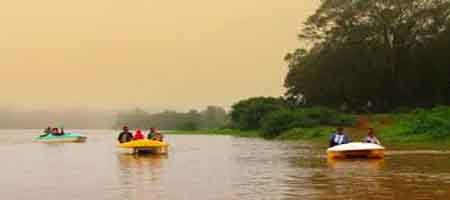 Pachmarhi
Set amongst the Mahadeo hills of Satpura ranges, Pachmarhi is a beautiful hill station. This hilly town has small hotels at reasonable price ranges offering 15 to 30 rooms on an average. Also, you can find plenty of shops offering small and delicate gift items like made of jute, wood, marble, etc. You can also stay at the cottages can enjoy the sooth breeze that serenely flows across the spot. You can also get to enjoy a plush stay among the thriving greenery and experience the vibrant tweeting of birds.
Day When to visit
The place Pachmarhi, Madhya Pradesh is an alluring hill station which can be visited mainly between October and March. The temperate and climate of the destination remains pleasing and enjoyable during these 6 months. During peak summer and rainy season, the place experiences extreme climate.
Places to visit:
You can explore plenty of tourist destinations in Pachmarhi and explore its natural charm. It's one of the ideal holiday retreats in India where you will surely get a chance to rejuvenate your soul.
| | |
| --- | --- |
| Caves | Dhupgarh |
| Jata Shankar, a popular cave temple in beautiful gorge. | This is the zenith of Satpura ranges which offer you a breathtaking view of sunrise and sunset. The night offers you a unique experience altogether where you can just see the scattered lights shimmering at the neighbouring towns. |
| Sangam | Silver Falls |
| This is a beautiful confluence of mountain streams. | he falls, also known as Rajat Prapat/ Big Fall, cascades down the gorge creating a silver streak. You get a vivid view of the serene, dense and virgin forest. |
| PanarPani | Chauragarh |
| It has a calm natural fresh water lake along with a forest. | It is Madhya Pradesh's third highest peal located to the south of Jaistambha. The Shiva shrine is the main attraction of the spot. |
| Satpura Tiger Reserve | B-Falls and B-Hill |
| The scenic forest is home to any leopards and tigers, along with birds, deer and moneys. | This hill is at close proximity to the township having a roaring waterfall on its hind side. |
Activities:
There are too many activities to perform in Pachmarhi.
Satpura Adventure Club
You can enjoy parasailing at the airstrip close to Reechgarh and have one of the best adventures of your life.
Swimming
If you are a fantastic swimmer, then you can get to swim in Apsara Vihar..
Jeep safari
Jeep safaris are arranged to Satpura Tiger Reserve by the Forestry commission.
How to reach:
Airways, Railways and Highways- all these connects Pachmarhi with other locations of the country.
Bhopal is the closest airbase from Pachmarhi, just at 195 Km away. You can visit this spot with the help of a standard package offered by a tour operator.
If you are willing to travel by train then you need to get down at Pipariya railway station. The place is bridged with Mumbai and Kolkata through railways with frequent rail services.
The place is also linked with crucial cities through roads. Its few hours journey if you are driving from Bhopal 200 Km, Jabalpur 241 Km through private cars or busses.