Sariska Weekend Package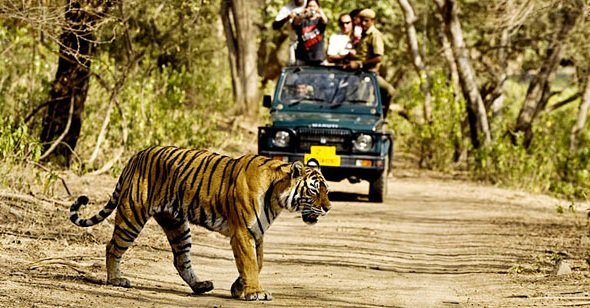 Sariska Weekend Getaways
Sariska proves that Rajasthan is not a dry desert, it also a spot where you can locate lush greenery, dense woods, wild-life and mountains as well.
Places to visit in Sariska
Sariska, commonly known as Sariska Tiger Reserve is located in the Alwar district of the state, covering an area of nearly 900 square kilometers. People mostly visit this place to get a glance of diverse flora, fauna and definitely the king of jungle.
The Sariska Palace (est: 1902) is another very popular destination, which is located right in between the tiger reserve. However, the palace has been turned into a lavish hotel at present.
The Bhartrihari Temple, Hanuman Temple, Kankwari Fort, Bhangarh Fort, Siliserh Lake and Palace, etc are some other places that you can visit during your trip to Sariska, Rajasthan. However, Sariska Weekend Tour, it needless to say that plan your trip and book Hotels in Sariska during the peak time.
How to reach
Reaching Sariska and finding the accommodations in Sariska Hotels is quite easy. The Sanganeer Airport (Jaipur) and Delhi Airport are quite close. You can also take train till Alwar or Mahwa rail halts, which are only 3km and 36km away from the place. Also, you will get bus services from various locations of Rajasthan and Delhi.
Lodging facilities in Sariska
There are plenty of Hotels in Sariska classified into affordable and luxurious (based on the service). If you are planning to visit the tiger reserve and its adjoining places then you need to book Sariska Hotels at least 2-3 months before.
Hotels like Tiger Den, Sariska Tiger Camp, Sariska Palace are few that comes under luxurious Hotels in Sariska. On the other hand, there are plenty of resorts, affordable Sariska Hotels in the locality. However, before heading towards the place do a brief study on the location and major attractions so that you can plan the trip by your own.