Turtle Farm Resort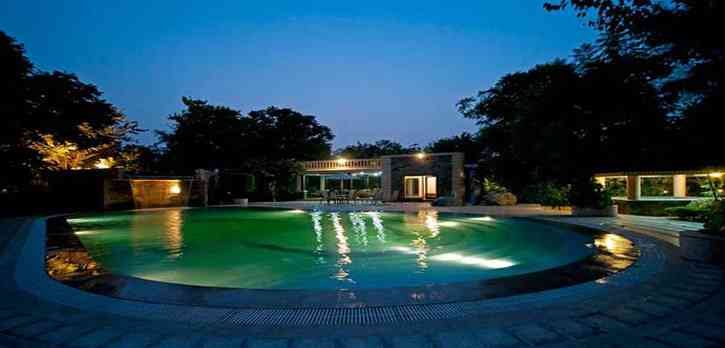 Turtle Farm
The Turtle Farm Resort is an exotic farm skirted with lovely greenery and captivating surrounding, only 62 Km from the capital of India. The place is beautifully decorated with natural beauty as the resort is located in Manesar, a place with exceptional natural beauty.
People mostly visit the Turtle Farm Resort for enjoying day picnic sports near Delhi or Gurgaon and also for outing. However, the farm can offer many more attention grabbing events and fun activities. Besides being a family gateway, the farm also hosts corporate parties, picnics, games and adventure activities. You can also come for a day excursion with your friends and enjoy the captivating and motivating environment just few hours' drive form the city.
The calm and well organized farm close to Gurgaon and Delhi also offers the guests pool side parties, bone fire and night stay options. The mini-golf course (with 4 holes) is another quality sport you can try in this sophisticated resort.
You can also explore the thrill of the adventure activities in the resort without any additional cost. The rope course activities, monkey crawl, flying fox, Burma bridge, rope walk, commando net, etc. are open for children, ladies as well as for every enthusiastic person. You can also try out pool volley ball and basket ball during your stay in this phenomenal resort.
Direction:
Reaching the Turtle Farm Resort from any part of Delhi, Gurgaon or Delhi NCR is quite easy. The exact location of the resort is in the Bilaspur village in Manesar on the Delhi-Jaipur Highway. The place is almost 62 km from Delhi and 20 km from Guraon passageway toll court. Needless to say, Noida is also pretty close (70 Km) through the NH 8 and can be reached within couple of hours.
Lodging:
The Turtle Farm Resort also has luxury accommodation facilities for people looking for a night stay. The rooms are equipped with ultra-modish facilities that will surely make your trip the most beautiful one. On call room service and other facilities can be availed at very low cost in this resort. There are accommodations for corporate parties or outdoor-activities.
Facilities at the resort
The Turtle Farm Resort also takes care of everything you need during such a lavish stay in a cozy destination. The package you choose will offer you plethora of food options, along with morning and evening tea with snacks. You can opt for your vegetarian as well as non-vegetarian food as per your wish. The farm also has handful of indoor as well as outdoor activity options for the guests. The beautifully maintained swimming pool and rain-dance arena are also an attraction of the place. Separate car parking facilities are there for those who are traveling on their own vehicle or hired one.